Brian Hilton Motor Group has been a part of the vibrant Central Coast community for 50 years. This series of blog posts looks at how we've grown with the community over the past five decades.
By the late 1980s the Central Coast had become a bustling community, and with the population now nearing 110,000 in 1987 there was a huge demand on the retail industry.
A now institution of the region opened that year, originally called Central Coast Fair but better known now as Erina Fair – meaning boot loads of shopping for Brian Hilton customers, and a plenty of cheques (remember them?) being written at Big W, Target and Grace Brothers.
The opening event saw 51,000 people through the doors for the incredible sales, with Angus and Coote Jewellers selling 10 rings worth $400 for just $10.
While the Erina drive in had closed just years before, 1988 saw the opening of a new destination for movie-goers, the stunning, Art Deco inspired Kincumber Ritz Cinema. The first film shown? The Aussie classic Crocodile Dundee.
1988 also saw another one of our icons spring up, with the Crowne Plaza at Terrigal built at the site of the Florida Hotel.
The following year saw the opening of the Wahroonga to Berowra section of the Freeway, making it a simple drive to the Coast from Sydney, with the toll then removed from the road in 1990 along with the Freemans Waterhole Interchange to Palmer's Road.
It was another few years before the F3, now known as the M1 or Pacific Highway got its own roadside landmark, with Dino the life-sized Diplodocus taking its place on the side of the highway in 1996.
Originally built in 1963, it is considered the oldest 'big' roadside landmark in Australia. With the Australian Reptile Park moving from Wyoming to Somersby, a publicity campaign saw Dino renamed Ploddy after his famous parade through the streets of Gosford on the back of a truck and up Kariong Hill.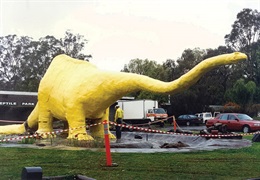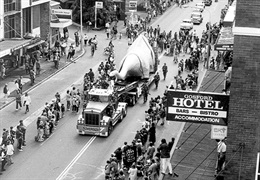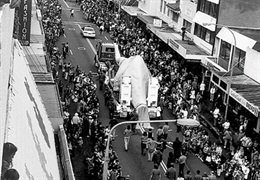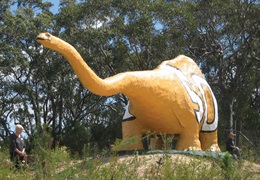 Photos from Gostalgia - an incredible archive of Central Coast photo's that we highly recommend you look through.