Brian Hilton Motor Group has been a part of the vibrant Central Coast community for 50 years. This series of blog posts looks at how we've grown with the community over the past five decades.
The late 1960s was a booming time for the Coast. Population was on the rise by 10 per cent year to year and new attractions like Egyptian Park at Kincumber began to crop up bringing tourists to the region.
Gosford had also become even more accessible with the electrification of the train line from Sydney and new suburbs such as Narara hit the map.
With more roads leading to the region, business man Brian Hilton saw an opportunity, and in 1967 set up his own car dealership. Brian Hilton Pty Ltd was born.
It wasn't long before the dealership picked up its first manufacturers, with French brands Renault and Peugeot appointing Brian Hilton as their Central Coast dealer.
Success came quickly as well, with Brian Hilton becoming one of the leading Peugeot dealers in New South Wales as the decade turned and then in 1972 being granted another manufacturer in Toyota.
Brian Hilton Toyota opened its doors in 1972 at a new dealership at 470 Pacific Highway bringing the latest models to the Coast – the Crown and Corolla.
It was an exciting time for the region as well, with Davistown RSL committing to a new $2 million complex, the opening of Woy Woy Hospital and Glenworth Valley kicking off a humble riding business with 10 horses.
By the mid 70s it was becoming a lot easier to drive around. The major highway between Sydney and Newcastle, known now as the M1 continued to take shape with the completion of the Brooklyn Bridge connecting Berowra to Hawkesbury River and Hawkesbury River to Calga toll roads.
The separate tolls of 20c were abolished and rolled into one 50c fee (if only tolls were still this cheap) and then in 1974 the Rip Bridge was opened, connecting Woy Woy to Brisbane Waters.
As the region expanded, so did Brian Hilton Motor Group and at the end of the first decade of trading, it had outgrown its premises. Come 1977 and a major change was in the works.
I still remember my first day there when i was shown the workshop courtesy car, it was a Renault 4, the gearstick was a pole that came straight of the dashboard.I was shown how it worked and told to go for a drive and come and back when i'd figured it out ! Turned out to be a lot of fun. Great times!
- Pam Borthwick (Spokes) | 2017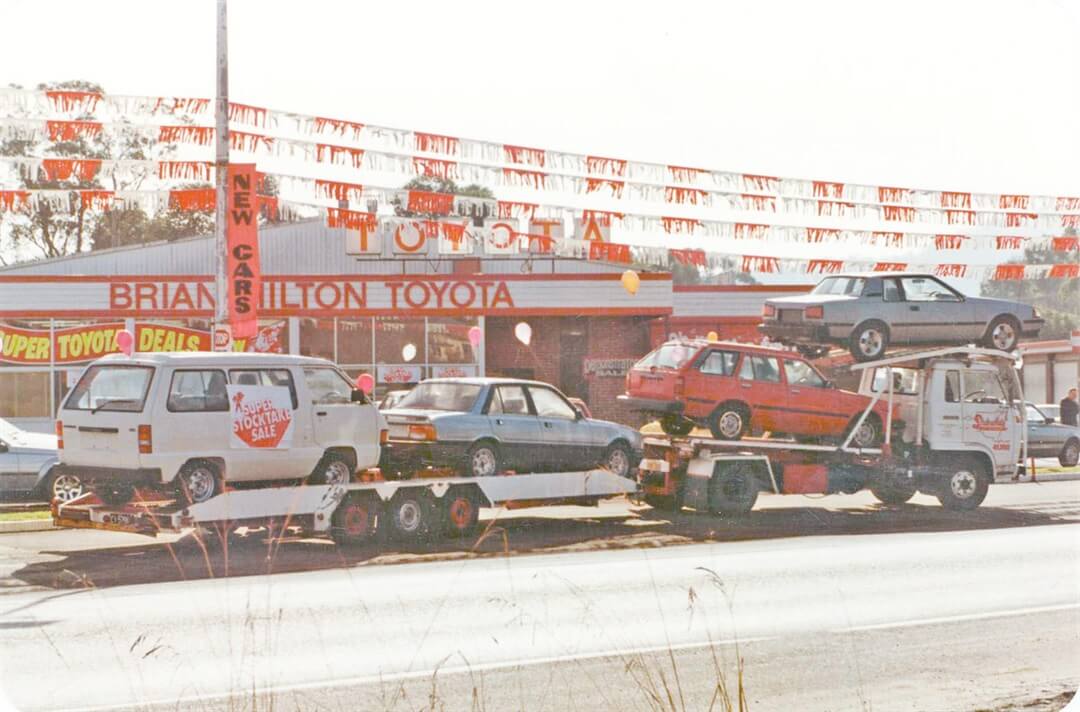 Photos supplied by Brian M. Hilton